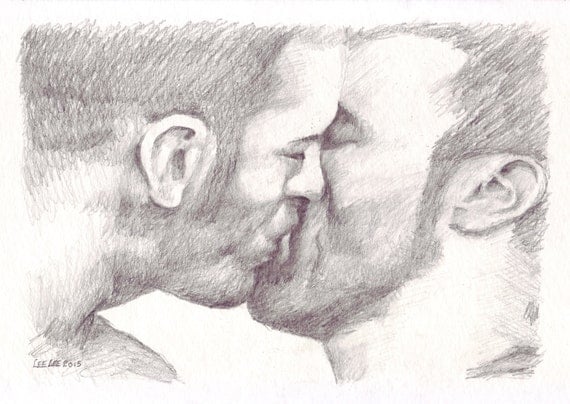 It was everything to me just sitting having a cup of tea on the sofa with my new husband Kyle. To everyone who passed us on the street they probably seen two gay guys in love. In fact we were a straight and a gay guy in love and it had taken quite a journey to get to this point. Sometimes I think Kyle is the only one who gets me, who understands me. My mum and dad think my sexuality "changed" when I fell in love with Kyle. They are totally supportive but my sexuality didn't change. Kyle gets that and he's ok with it. Well he married me so I suppose he must be ok with it.
"Jesus, married, can you believe it?", he said, sipping his tea.
I always loved his Dublin accent. It always seemed so hot been a Londoner living in London surrounded by for the most part English accents or maybe most people I knew were English in any case.
"No, I can't. I think we done it ok though. Everyone seemed to enjoy themselves."
"Grandad Michael really did! Way to re-inforce the Irish stereotype!", he laughs.
"He had a good night …"
"He was up on the tables singing I Will Survive!"
"Do you remember my Dad's speech?"
"Oh yeah, 'when Kieran told us he was gay, it was a surprise but when we realised he was with Kyle, we were so pleased.' Because I'm so amazing of course."
"Ah you're alright I suppose."
He is amazing but we won't tell him that.
I remember how we met. I was struggling to keep the rent going on this place and reluctantly for someone who likes my own space decided to go with the advice of my then-girlfriend to advertise for a flatmate. As luck or faith (which Kyle doesn't believe in but it was faith) would have it, Kyle was just after moving over to London and was crashing on a mate's sofa while he job-hunted. He seen my advertisement on the internet and put it on a list of four places. Told me after we got together that "I picked your place because I liked the look of the host."
I guess I liked the look of the lodger too. But I was surprised I did. Then I got to know him and I fell very quickly for him. Then I was really surprised, really confused. And mostly really happy. When my ex ran off with yaman, the barman everyone fancied, he had comforted me. And yet it was more my ego that was hurt, my heart had been elsewhere with Kyle for a while. And I fell even more in love with him because he was so kind to me.
A few months had passed. One night in the kitchen I had kissed him. His face instantly told me that he was very shocked.
"I think we'll just put this behind us. That wine is very strong."
"I only had one glass and you had only two. I know what I'm doing."
Well I did at that point. The first time I got lost in the moment with our close proximity in our tiny kitchen.
I went in for another kiss. He stopped me.
"What makes you think I like you back?", he'd grinned.
"C'mere.", he added and we kissed passionately.
"That was nice Kyle."
"Yeah … so are you into guys Kieran?"
"No, just you. It's weird, isn't it?"
"No, it's completely normal.", he smiled and we kissed again.
Back in the present he snuggles into my side and flicks on the TV.
"Big Brother time followed by Rylan.", he says.
A night in with my man. I couldn't ask for anything better. Long ago I was a bit of a player and I never thought I'd find love. Now I know just how wrong I was.