It is one of most difficult experiences to go through seeing someone you love in pain. I have experienced seeing two people I love suffering from depression. Because neither of these people would like the fact they suffered from depression being known, for this reason I will not be using their names in this piece.
The thing you feel most is helpless. You want to do something to make them be happy and yet you know you can't. Depression is a very difficult journey and watching from the outside, the best thing you can do is listen and understand how they feel from what they are telling you. The worse thing you can do is be judgmental and try to make out you understand how the person feels more than they do themselves.
Depression is a deep sadness but it is more than that. It includes insecurity and a sense of numbness. There is a lack of interest in the events going on in their life and a feeling often of "Why be productive because it doesn't matter?" because a person already feels no matter what they do they aren't worthwhile and their life and everything they do is meaningless. And instead of living, people who are depressed often feel they are surviving.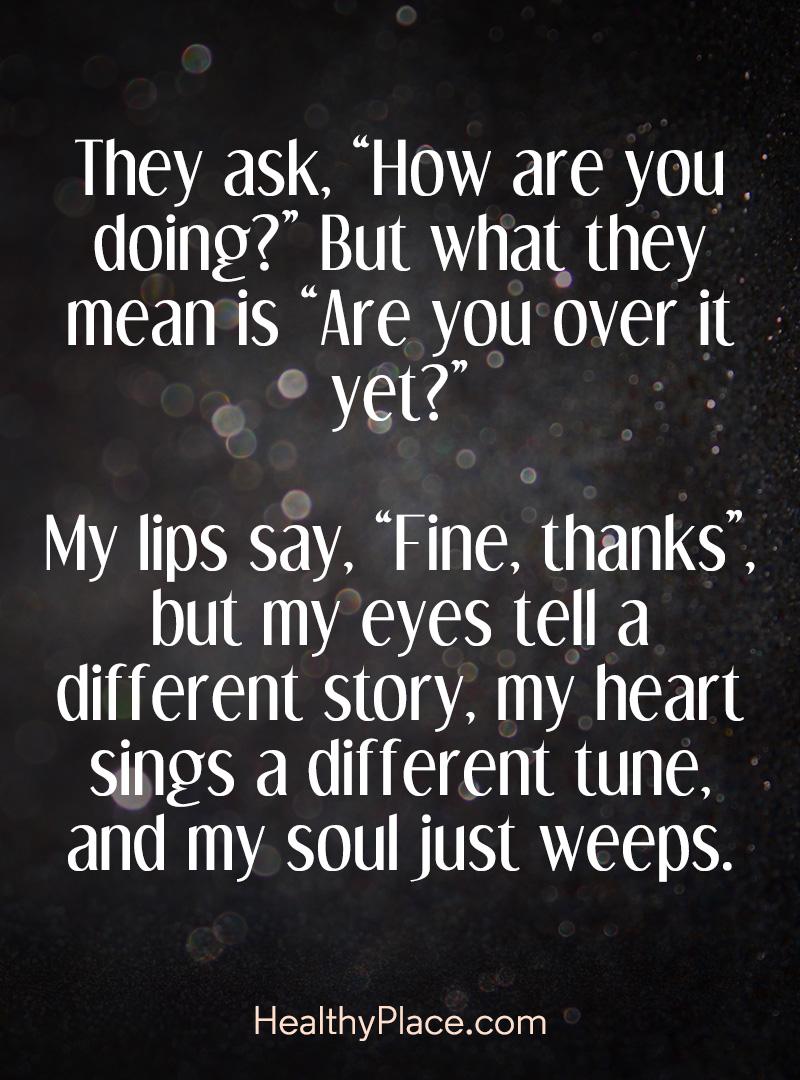 There is too much of the idea that people who are depressed can "just snap out of it" or that they are "attention-seeking". Depression in people is something that is a natural feeling and not something that someone can stop feeling like turning on and off a tap. Sometimes it's caused by an event or events, sometimes not and sometimes a combination of the two. One of the people I knew suffered from depression all their lives, the other for a period of time. It was a daily severe sadness in both cases which affected their daily lives and made daily life a struggle. The person who struggled for years kept their depression back and was able for many years to function every day without people knowing that they felt depressed but then they had a bout of depression where they couldn't get out of bed and where they were nervous going out in public in case they ran into people they knew. This person was actually a very outgoing person but in their worse bout of depression meeting those they knew and having to engage in conversation was difficult. It was partly because of their inner pain and partly because they were scared that the person talking to them would know they were depressed and know they had been in a psychiatric hospital. The other person had a bad bout of depression where they couldn't function the way they usually did for the time they were depressed.
Sometimes people who are depressed can get very anxious. They desperately want to be not depressed and sometimes can rush into things. The person who I knew who went into a psychiatric hospital would go in and would want to leave, go back in and want to leave again. They were looking for a quick fix and eventually they realised that wasn't going to happen. Their diet went downhill as they began eating much junk and greasy food and they weren't exercising enough. In the earlier stages of their depression they were incredibly healthy-living. The other person was phoning helplines, went to a counselling session and went to a psychiatric hospital but didn't admit themself in the end. All of these things are not in themselves bad ways to help with a person's depression but this person was hoping they would get a quick fix from these situations and things don't quite work like that. It's more gradual. And when the quick fix doesn't come a person hoping for one can feel worse in themselves.
Depression makes people feel very nervous and unsure of themselves. Many people who are depressed have a lot of talents and gifts to offer the world and when many depressed people allow themselves to shine the world benefits but many people who are depressed often don't allow themselves to. It can be a lot of pressure trying to cope with their depression and the added pressure of putting forward their talents can be sometimes too much especially in a world where not everyone is understanding of depression or compassionate enough to care. We live in a fast-paced world where profit is major and if someone needed time off work for their depression not every employer is understanding. While a lot of employers might not be alright with someone taking time off for any reason, there is even more of a problem for people who are depressed because many employers don't see depression as a valid reason for time off as opposed to a physical illness. In addition many depressed people often don't want to admit they are depressed to their employers with the stigma which often still surrounds mental illness.
The two people I know/knew both didn't want people to know they were depressed because of the stigma surrounding mental illness in society. They both felt that people would think they were "mad" or "dangerous". And at one stage someone they knew in their presence called the psychiatric hospital "the madhouse" knowing too that one of them was depressed and had attended the psychiatric hospital in the past. They went back on it but it showed what they were thinking. And it is that kind of attitude which prevents many people from seeking help when they suffer from depression. They worry that people they know years will see them differently and feel very ashamed of being depressed. The ignorance/prejudice of others only serves to heighten that sense of shame.
While there is still a lot of prejudice in society, things have become better. There is much more open discussion about depression and many more people speaking about their experiences including both high-profile people and people not in high-profile positions. Their bravery in telling their stories despite the prejudice in society can not be underestimated. The two people I know/knew were helped from the visibility of people suffering from depression because it made them feel they weren't alone. A lot of people who are depressed feel they are the only ones going through this and therefore think there is "something wrong" with them and seeing other people being so open is immensely helpful in raising their confidence in themselves that it's a completely normal way of feeling.
So if someone in your life is depressed the best you can do is show them that you love them and you are there for them. In the same way that you being not depressed is just an aspect of you, someone being depressed is just an aspect of them. Never get into that evil way of thinking that you not being depressed makes you better than them. Some people simply are and some people simply aren't. I also firmly believe that anyone can become depressed at any stage in their life and the idea that some people are immune is ridiculous. To be honest we live in an often cruel world that to be depressed is a natural reaction to it. Be kind, be understanding and listen. You can't get them out of the way they are feeling, that's down to them and it's a gradual, slow process. Sometimes peoples' way of feeling does change and sometimes their way of feeling doesn't but they may or may not become better able to cope with their depression and often people who are supported by those they love have a better chance of learning to cope better because they know they aren't alone. But we need whatever the situation to just be there and be supportive. Don't treat the person differently to how you would if they hadn't depression. They are still the same person and you should never put them in the category of "the depressed one" and forget all the other qualities that make them who they are. Don't treat them like a burden. They aren't, just going through some stuff and if you love them you'll be there for them. Don't be ashamed of them. There's nothing to be ashamed of. In short, be respectful.