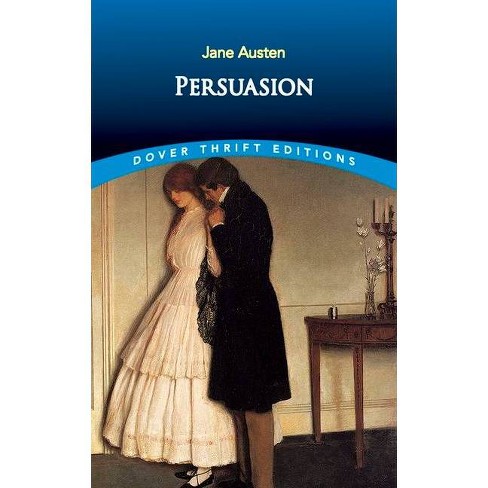 Persuasion (1818) by Jane Austen is the last book Austen fully completed.
The novel follows the romance of Anne Elliot and Captain Frederick Wentworth. The pair had been engaged seven years prior to the beginning of the novel. At the time, he was not rich and hadn't many connections in society. Anne had loved him but broke off the engagement on the advice of Lady Russell. Fast forward almost a decade on and he is doing rather well for himself while Anne's family are not so good financially. Can the two have a second chance at love together?
It is a brilliant read. I haven't read all of Austen's books yet but so far, this is my favourite of hers. I did like the rest of them so far too though. But this book has so much emotion in it and a great message that as much as taking advice is great, sometimes you need to trust yourself and what is in your heart. Classism is a major theme in this book and my god that Lady Russell was one classist soul. I couldn't stand her. She stood in the way of Anne's and Frederick's love because of her class discrimination and I always got the impression she thought she was smart and superior to both Frederick and Anne in different ways. I also find it interesting how peoples' attitudes change towards Frederick and yet he is still the same person as he has always been. I like that Anne always seen him as a person and not as his class or his status. I felt for her that she was pressured into giving him up but at the same time I was mad with her for allowing people to be ruling her life like that. Did that mean I couldn't understand why it happened? No. When put under pressure, it can be difficult to go by your heart and do what is right for you but she did hurt Frederick by her cowardice. And to let go of the person you love due to cowardice and people pleasing didn't show the best side to her in fairness.
In saying that, Anne was nineteen the first time around and the way she let Lady Russell walk on her and tell her how to live her life probably showed that she wasn't mature enough for marriage. Which is fair enough, she was nineteen. Because as she matures, she realises that when you really love somebody you fight for them and you put their needs before the likes of Lady Russell. It's not a good basis really for when one does commit to someone whether that's through marriage or living together because arguably the old Anne would let Frederick down to save face where the new Anne might even defend her husband or at the very least let him defend himself without making excuses for him that he probably wouldn't want made. In the years they were apart, Anne grew a spine and I was proud of her for that. So while it was sad that years were lost, maybe it was the best time to see if things could work out between them. And I was rooting for the happy-ever-after for them of course.
I love this book. It's a must-read.
To purchase Persuasion by Jane Austen go to:
To find out more about Jane Austen and her work go to: