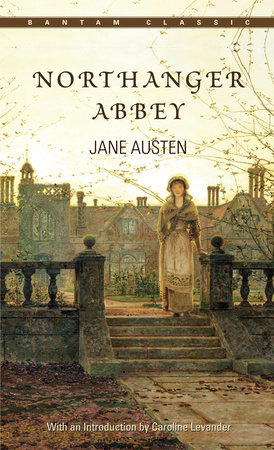 Northanger Abbey (1817) by Jane Austen is a stunningly written story by one of the queens of historical romance. She finished this novel in 1803, the first of her novels to be finished but it was published after her death. Around the time this story was written Gothic novels were very popular and this novel was written as a satire to those novels.
I love horror movies and the gothic element to this novel is something I love as well as the subtle humour in it. It is an incredibly cleverly-written story following the protagonist Catherine Morland who loves Gothic novels like Ann Radcliffe's Mysteries of Udolpho. Now seventeen, Catherine meets Henry Tilney and soon the Tilneys have asked her to come to stay at Northanger Abbey where they live. The fact that it is an abbey causes Catherine's overly imaginative mind to think that it will be haunted and a horror-filled experience. She soon finds out that there is rooms in the house which no one goes into and that these rooms were the rooms of Mrs. Tilney who died nine years prior. Catherine puts two and two together and comes up with a hundred in thinking that General Tilney killed his wife.
Soon Catherine comes to her senses but Henry tells her that his parents were very much in love. Catherine leaves the abbey full with guilt and fears that has lost Henry who she loves due to her wild suspicions of his father.
I don't wish to spoil the outcome of the novel so I'll stop there. It is a wonderfully intriguing and page-turning novel as well as a coming-of-age novel. Austen wonderfully wrote a great commentary in an entertaining way on how reading for entertainment is great but it must not be confused with reality. She showed perfectly how the world of fiction can sometimes get the better of impressionable minds and how some people, bored with their own lives, try to make their own lives more interesting by relating their life to things they read in novels.
This was Austen's shortest novel and can be read in just a few sittings. It's really interesting and the pictures in the scenes are wonderfully painted. A great short read.
To read Northanger Abbey By Jane Austen for free go to:
https://www.planetebook.com/free-ebooks/northanger-abbey.pdf
And to find out more about Jane Austen and her work: