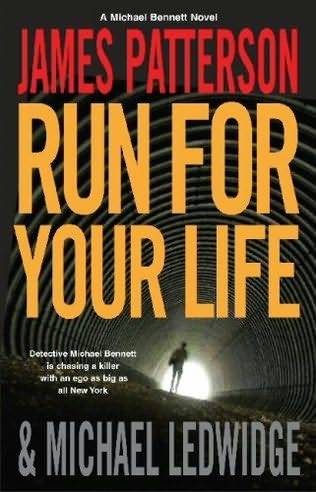 Run For Your Life (2009) by James Patterson & Michael Ledwidge is an enthralling book in the Michael Bennett series.
This page-turner follows Michael Bennett as he tries to track down the mysterious killer known by the name The Teacher. New York is in chaos as The Teacher seemingly is killing people at random and Bennett must try to piece the pieces together to find out whether these murders are indeed random as suggested or if buried deep, there is a link to be found. This book has 98 chapters with three chapters in the prologue and they seem to fly by as you join Bennett on the case of solving the murders. Snappy chapters filled with pace and drama keep you reading and reading …
Another element of these books which is wonderful apart from the mystery is Bennett's love for his family. His wife died and he is minding a whole bunch of their children himself. Well with the help of Mary Catherine, their nanny. There seems to be chemistry between Mary Catherine and Michael so I think they may get together in future books. I also like the fact that all the children are adopted. I don't think there is enough about families where people are adopted in stories and when there is, it isn't always dealt with right. It always seems to be that terrible line of "real family" about their birth family but in this book Patterson and Ledwidge show a family of adopted children who are loved and cared for by their father with the same level of warmth and heart that a birth father is often depicted as feeling for his children so I thought that was lovely. And if either way, that ain't real family, I don't know what is.
A splendid read filled with mystery and human feelings. Absolutely gripping.
To purchase Run For Your Life by James Patterson & Michael Ledwidge go to:
And for more on James Patterson and his work go to:
http://www.jamespatterson.com/
And for more on Michael Ledwidge and his work go to:
https://www.amazon.com/Michael-Ledwidge/e/B001H6OACK