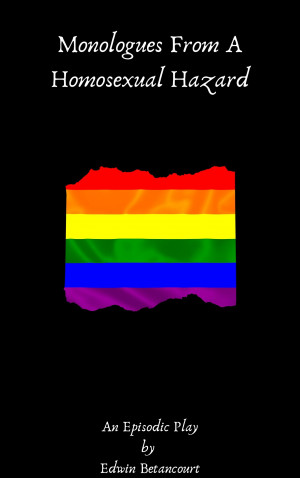 Monologues From A Homosexual Hazard (2020) by Edwin Betancourt is an excellent play.
Set in New York, the play follows the stories of six gay men Marco, Saint, Jayson, Harley, Frankie and Johnny who each speak about various aspects of what it is like to be a gay man in society nowadays. Inspired by The Vagina Monologues by Eve Ensler, the play lets us really get to know each of these men very well in a short amount of time. There is a lot packed in here with topics ranging from feelings about love, insecurity about your body, mental health, domestic violence, suicide, toxic masculinity, dating and marriage, loving yourself as you are, discrimination, TV portrayals and life and death.
My favourite character is Saint but I adore all the characters. I love how opinionated and unapologetic they are. It's a refreshing write, very modern and totally what I love to read. So much is highlighted here which certainly needs to be highlighted. There is a great mixture of emotional content and humour. It's like how life is, like slices of life. Very realistic and written in an excellent down-to-earth conversational way that instantly pulls you in.
I think a lot of plays/books etc … struggle with where they are going when talking about discrimination because the writer or writers go for a one-dimensional feel of either humour and happiness or pain. The truth in life is that both aspects are there and this writer has done a fantastic of putting both those elements in. I also don't feel that this play is pandering to the masses and trying to keep everyone happy. It's just direct, honest and true to life and I love that. They are opinionated, they are unapologetic and that's celebrated which it isn't always and I think that is incredible. The characters are very realistic and I therefore relate to them. This is definitely an author whose other works I would be interested to read in the future. It's excellent, I very much enjoyed it.
A must-read.
To get your free copy of Monologues From A Homosexual Hazard by Edwin Betancourt go to:
https://www.smashwords.com/books/view/1012559
For more about Edwin Betancourt and his work go to:
https://www.smashwords.com/profile/view/EddyBee
To watch the stage version of Monologues From A Homosexual Hazard by Edwin Betancourt go to: