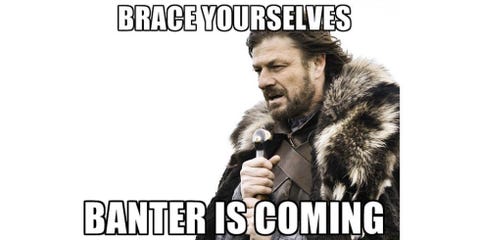 You probably hear the word banter bandied around often and in so many cases that you lose count of, it doesn't seem to be banter. Banter is a non-malicious two-way street. Often we see this isn't incorporated into situations where one friend is in a particular minority group and the other friend is from a particular majority group. This blog post is not about people who have a non-pc, close to the bone sense of humour and banter. It's about people who make jokes about a certain aspect of someone and that aspect of themselves they can't take the piss out of. For example if a girl and a guy are mates it is banter and meant in a fun, non-malicious way when the guy says, 'The woman's place is in the home and with all life's gentle stuff' if they can equally joke about themself being a 'guy who works because being a man I'm emotionally repressed.' And if she is joking about herself as a woman and him as a man then it's humour. It's not humour if it's a one-way street under any circumstances. Ever.
I have heard both sides of this debate and I fall more in the middle with my thoughts on it. Sometimes I have a bit of non-pc humour and then certain relationships you have kind of demand you to step it up in that regard because the other person would have that humour. But for the most part it isn't really a huge part of my humour or my banter. I'd be more a mimic but I don't mind mimicing myself either or others mimicing me. It's all in fun. But on one side of this debate, you have people who say under no circumstances should certain things be joked about. I disagree with that because if it's genuinely meant in humour, it's not meant to hurt anybody. It also shows up the stupidness of the comments themselves. Kind of like good satire. And also when someone takes the piss out of you a lot, it's generally because they like you and they feel comfortable with you. The other side of the debate is that people are too sensitive and don't know how to take a joke. I also disagree with this. This is very often said by people in majority groups who don't like jokes being made in that aspect about themselves. They may or may not mind people making jokes about them in other aspects but they think that aspect of themselves is protected from the humour mill. Like for example two mates going to a gay bar, one straight lad, one gay lad. The straight lad says, 'I'll have to watch my arse with all you gay lads here tonight.' and the gay lad says, 'All the lesbians will have to watch their arses with you around.' and the straight lad replies with no hint of a smile, 'I'm not a pervert.' Now in a situation like that, one would have to wonder if the straight lad meant his own first sentence as a joke which was apparently a joke in the first place. If the straight lad takes the gay lad's joke as a joke then it's all mutual banter between the two of them.
I think that is the problem at the heart of all this. It's not necessarily the things that are said but the intention behind them. But the intention becomes questionable when someone gets defensive about a joke being made the opposite way around.
Obviously there are exceptions to this with non-pc jokes or any jokes really. If someone has had a bad experience with certain words or situations such as being bullied in the past about who they were in whatever aspect it is, a good friend won't open that wound in a person. After all, however hard they try they might not see the person saying it now but the person or people who said these things in the past and who said them from a very different perspective. Often it is people who are in minority groups who have had bad experiences like this but it can occasionally happen the other way as well. A good friend would respect this and would know a joke isn't worth bringing up very hurtful memories to a person over. We all have scars and if someone isn't comfortable with you scratching at those scars, it's not really cool to do so.