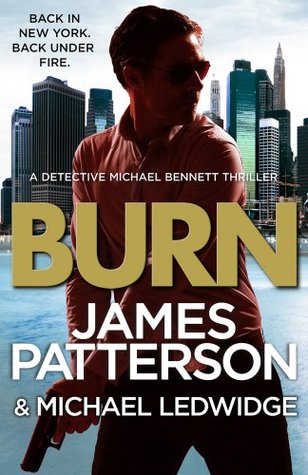 Burn (2014) by James Patterson & Michael Ledwidge is another exciting book in the Michael Bennett series. It is book 7 in the series.
Bennett and his family come back to New York City in this book after Bennett defeated the crime lord who made the family need to go into hiding in the first place. Bennett begins working for the Outreach Squad in Harlem and gets a call about a party in an old building. He doesn't take it seriously and later a burned body is found in the building.
The plot is very interesting and it's intriguing to find out exactly what's going on as the book progresses. There is everything in this book from mystery to corruption, romance, humor and family life. The characters are all well-rounded and the story is a very enjoyable and riveting read. The family parts of the book are amazingly written too and show Bennett in his more softer moments and you find yourself really rooting for him and Mary Catherine. Their relationship is slowly coming along and it is lovely to see.
An exciting, enjoyable read.
To purchase Burn by James Patterson & Michael Ledwidge go to:
And for more about James Patterson and his work go to:
http://www.jamespatterson.com/
And for more about Michael Ledwidge and his work go to: