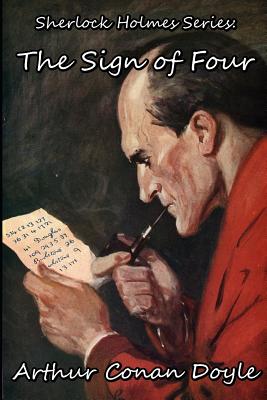 The Sign of Four (1890) by Arthur Conan Doyle is the second book in Conan Doyle's Sherlock Holmes series.
In the book, it is 1888 and Holmes meets Mary Morstan when she comes to seek his expertise about her father who disappeared a decade previously. After four years, she was sent an expensive pearl each year from a mysterious patron who has asked her to meet them. She wishes to do so and asks if Holmes and Watson will come with her for protection. While on the case, Watson falls for Mary.
The story was interesting and held my attention throughout. I like the way Mary's and Watson's romance came together too. On the downside, there is a condoning tone to the book of racism, classism and sexism which is dodgy as hell. Sherlock Holmes would be a great character without his prejudices. That is what ruins him really for me. Because I do actually like the originality of having a nerdy, intellectual, introverted, cocky detective. Most of the time, fictional detectives do not have those qualities or come from that perspective. He is complex and more interesting than a lot of fictional detectives in those regards but his prejudices make him unbearable, like no honey, just no.
There is certainly better Sherlock Holmes books than this one but it's still a well-written tale in a lot of ways.
To get your free copy of The Sign of Four by Arthur Conan Doyle go to:
https://www.gutenberg.org/files/2097/2097-h/2097-h.htm
And for more about Arthur Conan Doyle and his work go to: