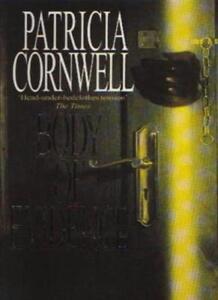 Body of Evidence (1991) by Patricia Cornwell is the second book in the Kay Scarpetta series.



Set in the 90s, the second book's plot revolves around the murder of author Beryl Madison in her Key West home. Beryl had been harrassed with threatening phone calls and messages prior to her untimely death and it appears that she let the killer/s into her home as the buglar alarm has been deactivated. The only clues left seem to be two letters Beryl wrote to someone called M and the fact that her newest unpublished book, her memoirs, is nowhere to be found.
As the story continues, the reader is dragged into the murkier side of the writing world. She meets Beryl's mentor Cary Harper and his sister Sterling Harper who quickly become suspects and does some investigating with Beryl's biggest fan in the nursing home who had also invited her to do a writing talk. Add into this a twisty lawyer and a returning former lover Mark James and Miss Scarpetta has a lot on her plate indeed!  
The book has plenty of twists and turns and defintitely keeps you turning the pages. I was hooked on the changes in events and how Cornwell introduced new herrings very well. The conclusion though is questionable and without giving too much away, I'm not sure it's particularly realistic considering Beryl was living in fear. The ending of a mystery is extremely difficult to write. I totally understand that. But it didn't work for me.   
Prior to reading this book, I had only read one other book from this series The Scarpetta Factor. While I liked the character of Kay in that book, I didn't adore her like some other protagonists. It was more really because I didn't get to know her in the previous book. In this book however I did mainly through her reactions to and thoughts about that homphobic twat of a partner of hers Pete Marino. Cornwell managed to kill two birds with one stone here by both highlighting the ugliness of homophobia and showing that Kay had a bit of something to her. It definitely helped me warm to her a lot. 
Great read.
To purchase Body of Evidence by Patricia Cornwell go to:
For more information on Patricia Cornwell and her work go to: