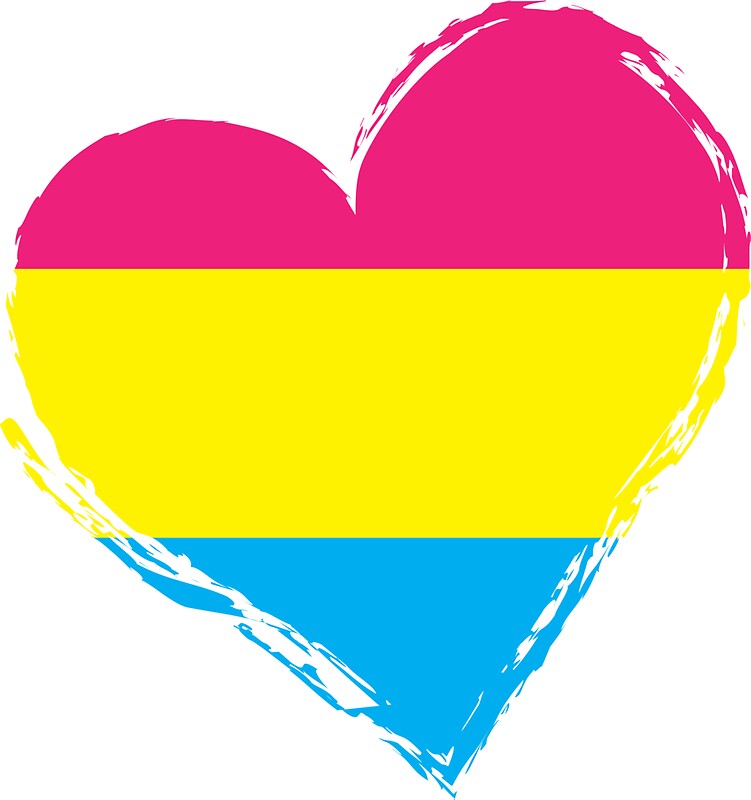 You may remember if you have been following my blog for a while that I started a series called Pansexuality & … Well this is the second part! 🙂 I plan on it being a 10-part series. This part is all about Pansexuality & Dating as the title suggests so let's get to it …
As you can imagine dating can be a little more daunting for someone who is pan (or in the middle of the sexuality spectrum in general) and there is weirdly both pros and cons to that. It often comes from prejudice. Prejudices (and myths) like to mention a few old chestnuts:
Pansexual people are "sluts" or promiscuous.
Pansexual people can't be faithful, be monogamous or can't fall in love or be in a committed relationship/marriage.
Pansexual people are "on the fence", "going through a phase" and will soon settle for a binary sexuality.
Pansexual people can give you a sexual disease due to their "sexual appetite".
Pansexuality isn't normal and a pansexual is weird.
Minus pansexuality is abnormal, to deny all of the above for all pansexuals would be very wrong. But the same is true of anybody of any sexuality. People are individual and their sexuality is absolutely no indication of what their ideas about any of the above will be. So that's a lot of what's behind many peoples' reasons for not dating a pansexual.
So what do I think of people who won't date someone because they are pansexual?
I find that a complicated question to answer. Mainly because there is usually two responses by many people to that question. On one side you get the personal taste argument and on the other you get the everyone who won't is prejudiced. I'm kind of in the middle (some things never change! :-)). I think it's personal taste when there is no prejudice reason behind it. If it's a natural feeling coming from a natural place I find absolutely nothing wrong with that. But to be honest I don't think of these people as fully the sexuality they often say they are. I put half in front of whatever sexuality they use because I think that if for example a guy says he's heterosexual and yet he leaves out meeting a woman from a certain group or certain of groups of women it's like saying you love a big bar of chocolate and you only like a few squares. And that goes for any sexuality including my own in my eyes before anyone thinks I'm getting at straight people. So I find people who wouldn't think they should put half in front of their sexuality and people with other prejudiced reasoning bigots. So as I said I'm in the middle. I don't think the feeling is actually wrong but the reasoning often is and the level of respect towards another human being often is. Sometimes the feeling I get is that many of them think they are superior if I'm being honest and that may not always be the intention of the other person. I accept that but when half or something similar is not used it puts me personally on edge that women like me wouldn't really count for them to be whatever sexuality. So it feels to me like I'm being dismissed as a woman. So that's often the psychology behind why someone would feel someone was prejudiced in those circumstances. And everything I've put in this section goes for every situation including if a pansexual (or anyone in the middle) wouldn't date a gay or straight person.
I sometimes feel quite nervous about entering the dating pool too often as a little pan. These kinds of attitudes are things which gay or straight people might encounter every now and again if even that. But it's something a pansexual or anyone in the middle would encounter far more regularly. There is good people and people who aren't half whatever out there but there's a lot who aren't. Now with a bigot I'd rather just get out of there as fast as possible because they ain't worth my time sunshine but I would like to communicate with people who aren't coming from a prejudiced view/s and are simply halvers (I say that affectionately) because there's often terrible communication in these situations and neither person has set out to hurt each other and unintentionally they do as things spiral out of control because they don't communicate. But someone does need to inform you they are a halver or in whatever words they want to use to express that because I personally wouldn't ask someone out that because I wouldn't know how they'd react. It's a dangerous question to ask in other words and different people would react to it in very different ways. In other words I could be friends with someone who is a halver but I need to know they respect me enough to know that I would count for them to be full in their sexuality.
This section is not about halvers and focuses on the bigoted ones. The upside of being pan in dating or being in many minority groups in general is that you are more likely not to end up with a narrow-minded bigot. You might have more awkward moments along the way but you are more likely to end up with an open-minded person and that's one of the beautiful qualities I'd love to find in my future love of my life whatever their gender or sexual orientation.
For part one of my series Pansexuality & … Explaining go to:
https://culturevultureexpress.wordpress.com/2017/09/06/pansexuality-explaining/